Best Tips on How to Get Your Baby's First Handprint and Footprint for Creating Best Keepsake Gift
Those little hands and tiny baby feet don't stay small for long. Cute handprint art is a great way for you to preserve that baby handprint or little feet forever and is a great idea for DIY gifts. And keeping baby hands and footprints has become an extremely popular trend these days. It allows you to capture the most special moments of your baby's infancy. You may despair of those grubby little handprints that seem to get everywhere now, but you will miss them one day. They look great on the wall as art or keep tucked away as a keepsake craft. These beautiful keepsakes can be displayed for everyone to see and admire.
The first nine months of a baby's life are the best time to take their hand or foot impressions and keep them as a reminder of how small and dainty they once were. Family members often gift parents special mementos made from their baby's prints to treasure forever. These prints can be easily created with the help of a baby hand and footprint clay kit.
Why the first 9 months is the best time to capture your baby's handprints?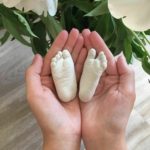 Did you know as a parent that a baby in the first 9 months of his/her life would double their birth weight, grow by about 4.5 inches in length and increase their head circumference by about 3 inches?
In fact, that's the fastest they will ever grow! So, it's needless to say, their little hands and feet will also grow fast in proportion to their bodies. That's why the first 9 months of a baby's life is the perfect time to capture their hand or foot with imprints that you can keep as a memento of how tiny they used to be. Keepsakes made of your baby's prints can also make a very special memento for your family, to cherish forever.
Getting The Perfect New-born Baby Handprint Footprints Can be Tricky!!
Getting the perfect newborn baby footprints can be tricky, but follow our top tips on how to make baby footprints and you should be able to take some adorable little footprints from your baby. Salt dough keepsakes are always popular but we at babies bloom suggest using baby-safe ink or inkless wipes, dry clay, or molding powders to get these DIY prints, but paint works too. You could use the baby footprints as a keepsake, to make cards, or to put in a baby memory book.
So How to Get the Perfect Baby Handprint and Footprints?
Make Sure Baby Is Comfortable
This is one of the most important things. If your baby isn't settled it will be almost impossible to make clear footprints as they will be too wriggly, even trying to take footprints will result in a very upset baby.
For young babies taking impressions while they are asleep might be your best option, but if your baby is awake and alert most of the time make them comfortable and have a few items nearby that might distract them.
Get Your Supplies Ready
You don't want to start taking your baby's footprints and find that you don't have everything you need to hand in. There are a few different products that you can use to take baby footprints.
Inkless Footprint Kits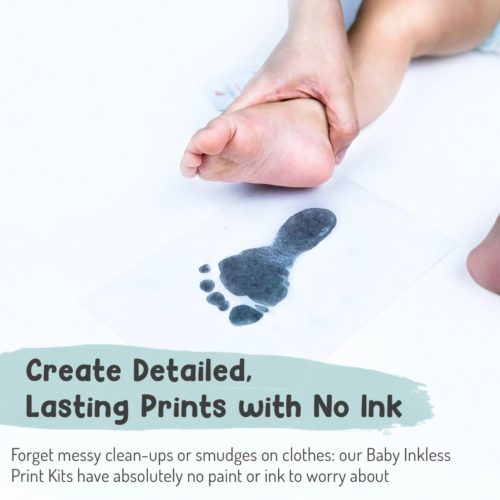 For newborn babies, the inkless wipe print kits are amazing as there is no ink or paint involved and they are non-toxic and safe to use on babies. If using one of these kits you simply wipe your baby's foot with the wipe supplied instead of using ink and press it onto the paper provided to create a footprint. Babies Bloom Inkless kits are non-toxic and safe to use right from birth.
Dry Non-Toxic Clay Impression Ornament kits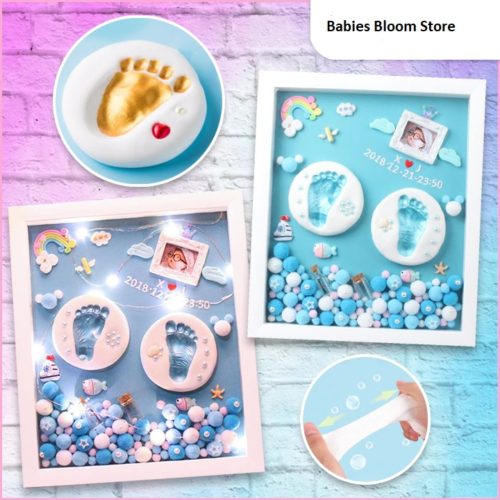 A timeless tradition merges with a stylish and modern design in a complete kit that every new mom, dad, or pet lover will adore. It's a baby keepsake must-have! This special keepsake box comes ready to gift in beautiful gift-ready box packaging. We know this hand and footprint kit makes a great gift for many occasions. Perfect as a mother's gift, Father's gift, New Parents, Baby shower gift, Baby Naming, First Birthday gift, and many more special moments…!! Every keepsake print kit is made with a hypo-allergenic alginate molding material, 100% safe, and fun with easy no-bake drying.
3D Moulding Casting Kits
3D hand casting kit lets you capture precious moments while making one of the best unique gifts for your loved ones. With this hand mold kit, couples or family members can freeze special moments in time! Made from natural organic seaweed, the Alginate molding powder is safe for sensitive skin. Plus, the chip & stalk-resistant plaster makes a long-lasting memento. The plaster mold captures the smallest details & isn't harmful to jewelry, so you can keep engagement or wedding rings on. With this molding kit, every line of your loved one's hands will be frozen in time!
Position Yourself
Get yourself in a position facing your baby's feet so that their feet are easy to reach. But those super cute little fingers and toes don't stay tiny for long and lots of parents like to capture those gorgeous little hands & footprints when the baby is little.
To be on the safer side, always do a dry run before wiping out :Practice wiping the baby's hands flat several times first. This is a must! You can spend time working with your team to find the ideal position for everyone.
Choose a time when your child is calm and cooperative- Baby handprints can be difficult to get as they will often clench the fist. A few minutes spent massaging the palm and relaxing the hand can really help.  A gentle squeeze of the knuckles can help draw out the fingers enough for you to get the hand onto the page. If you are unable to get a good handprint, a footprint might be easier.
For young babies, this could be when they are asleep or feeding. For older children do the prints when they are happy and not tired or grouchy.
Have a few dry runs first
Get into a comfortable position and practice getting the baby's hand flat a few times before opening up the inkless wipe. You'll feel much more confident and relaxed when you do the prints for real.
Be confident and firm
To make an impression it's important to be strong and firm about it. Practicing will really help. Babies are surprisingly strong – as you'll discover when you try and get their tiny hands flat! As long as the baby is being held securely and lovingly, you can use quite a bit of strength to spread their hand out flat and hold it down for a few seconds.
So, get ready to freeze special moments in time 
We hope you as new parents enjoy creating your little baby's precious handprint or footprint ornaments or gifting it to a new parent on these special occasions. You can get your hands on the best available baby hand and footprint clay kit in India at amazing prices from babiesbloomstore.com. Use these baby impression kits smartly, and you will be able to make a beautiful memento out of your baby's tiny hand and footprint.